A cute little tote bag for a child or someone young at heart. Approx. size is 10 1/2 inches deep x 9 inches across.   The inside lining is pale pink. The owl is taken from a quilt pattern that I purchased from Thimble-Art.  If you love quilting you should check it out. The 3d quilt designs are adorable and the lady that owes the site and does all the designing is just as sweet as can be.  Check it out and tell her Rhonda sent you. 🙂
(was originally listed for $20.00)
SALE ITEM $12.00    Shipping Not Included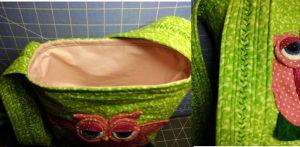 Sugar Skull Fabric purse 
This is a light weight purse (approx. 11 1/2 inches wide by 7 inches tall) made using pink cotton fabric mixed with sugar skull fabric. The sides, top side of the handle and the pocket use the sugar skull fabric. The pocket on the front also has a pink bow accent. The flap closure secures with a snap. The handle is approx. 22 inches long and 1 1/2 inches wide. The inside of the purse is all pink. The purse has batting between the inside and outside fabric and is machine quilted.
$12.00    Shipping Not Included


This little draw string pouch is new but was made as a sample for my sewing class.The finished measurements are approx. 7 inches tall, 7 inches wide with a boxed bottom of approx 2 inches. 
$6.00    Shipping Not Included