I have lots of patterns of all kinds: clothing, toys, quilts, dolls etc.  Most of the doll patterns are vintage patterns.  Probably more than half of the doll patterns  I have collected over the years I haven't had the time to use so I decided  to pull out my collection, pick one  and get "bizzy". 
The problem with pulling out all those old patterns  is  how easy it is for me to get stuck looking through them.   Just like a kid in a candy store I  oohed and aahed over each one.  (giggle) You'd think I never saw them before. 
  I finally decided  on  16 inch doll pattern by Sew Sweet Dolls from 1981 which is actually not one of the older ones. Most of them are much older than that but It caught my eye so out of the box it came. 
Once  I settled on the pattern I wanted to use it didn't take long to decide on  the fabric,  pin it down,  cut it  out and get everything ready  to start assembling it  tomorrow.   I didn't get a picture of it but I also cut out the pieces for the little dress and undies also.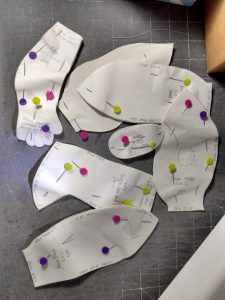 I'm  excited to get started sewing ….but…… for now I need to  get other things done so I can go to bed before sunrise. 
G'nite everyone and Sweet, peaceful dreams to all!