I'm almost finished with this quilt. All I have left is the binding and 4 large sunflowers on each corner.  It's been so much fun and I've enjoyed every step.
I pray it will bring a smile and joy to the person that ends up purchasing it. 
UPDATE:  (because I've had numerous questions regarding a pattern for this quilt) 
I rarely follow a pattern. I enjoy the creative process and like my quilts to be different from other quilts.  For this one I used the Farm Sweet Farm templates by Lori Holt for many of the  appliqued items and followed her guide on how to put together most of the animals but I added my take on others. I added extras to the flowers, created my own designs for some of the items and embellished as I wanted while putting together the 12 x 12 inch blocks. For example: I added a  handle on the pail, put machine embroidered flowers in the pail, places buzzing little bees to fly around the bee hives, added the little bird and  musical notes on one of the cow blocks, I created the pattern for the scarecrow, pumpkins and  the wheel barrow, I placed a few clouds in some of the blocks, added grass blades on the ground,  and attempted to change the perspective on some of the things like the blocks with the bee hives and pigs show the main items  appearing closer or pushed farther away. 
I hope this helps answer some of your questions. 🙂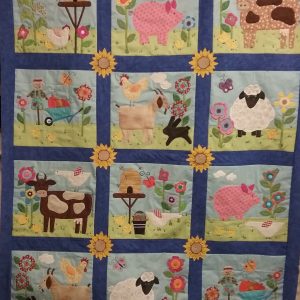 UPDATE!    QUILT SOLD!