I make face/dust masks.  They are $8.00 each. Shipping is separate.    They come in 4 sizes, small, medium, large and exlarge. Call me for if you have any questions or would like to place an order.
UPDATED INFORMATION: . Originally I made these masks for people, like myself, who have lung issues and would only be  wearing  them for short periods of time but needed the most protection a simple mask could give from dust and pollen. 
The situation has changed and many people are now wearing the masks for a different purpose and for hours at a time. I have been asked to make them lighter while keeping the protection of the heavier masks  so   starting 4/3/2020,  unless you request the heavier masks, I will be making them using a different type of middle layer. They will still be much heavier and more durable than paper masks but a lot more comfortable when wearing  for long periods. If  you've bought the masks from me in the past and like the original thickness, that's not a problem just let me know when you order again that you want the "old" style.   I also make masks that will allow you to insert an additional filter.  I sell those for $9.00 as they take more time to assemble.    🙂
Specialty masks and/or custom orders are $10.00 per mask.
  Please feel free to contact me with any questions.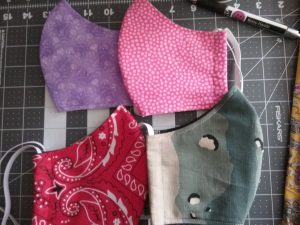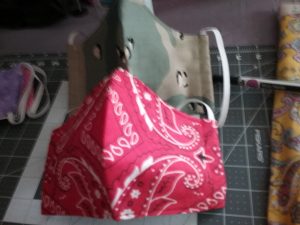 WARNING: DO NOT USE ON CHILDREN UNDER 4 YEARS OLD
Rhonda
702-281-4854