Psalms 98:4
"Make a joyful noise unto the LORD, all the earth: make a loud noise, and rejoice, and sing praise."
KJV
The ukulele is a small HAPPY instrument that is easy easy EASY to learn to play.   If you've ever wanted to learn an instrument, if you've tried the guitar but found it a bit much, if you used to play the guitar but your hands aren't as flexible as they used to be and the reach is harder than when you were younger,  if you'd like to play some music to sing along to, if you need an instrument that won't cost a small fortune to purchase, if you'd like something very portable,  if you'd like to lift your mood and stimulate your mind………………….get a ukulele and start strumming.   Today would be the perfect day to start!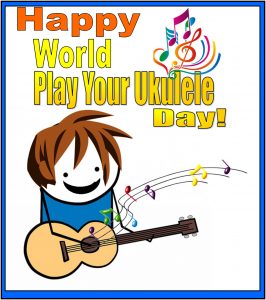 Eight simple songs you can learn to play. I can help.


Ukulele (original poem by me)
It's such  a little instrument
with quite a pleasant sound.
Whenever it is  played
blessings do abound.
Your health, it will improve.
Your stress will melt away.
Depression it will lift
and worries, they will fade.
Friendships, they will grow,
and your skill, it will too.
So grab your ukulele,
let's play the whole night through.


……..make some  music, and praise the Lord

……..