After work at the recreation center and another visit to the dentist I was able to work on the last of the "home" work that I brought to my house from Antonio's
(if you don't know who Antonio is click here~~~~~~>  memories & davant designs ).
Tomorrow I will deliver what I have  and pick up some more.  Time is running out and I know he has a lot more for me to do.
Here are 2 pictures of the completed lettuce ruffle hem on the yellow fabric that I didn't place in the last post .  If practice makes perfect I should be a master at this type of hem.  [[[[ha ha]]]]
If you follow my blog you know that just a couple of days ago I misplaced a part off my sewing machine when I cleaned it. Today I spent a half hour looking for the fishing line that I just bought yesterday. It was pretty important that I find it because I have to have it to do the lettuce ruffle hems! I knew I brought it in and I was  sure it was in my sewing room but I couldn't find it anywhere………………(must be old age-SIGH)
I looked and looked and looked before I finally gave up and went on to do something else.  Of course, just moments after I "gave up" there the  2 new spools were, right in front of me—just slightly covered with an edge of fabric.    I laughed out loud thinking about how my grandmother would have said, "If it had been a snake it would have bit you".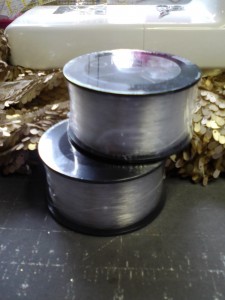 With the fishing line located and everything else finished I started working  on the last item I had here at my home which  was a cut out gown that needed to be assembled.
This is the fabric I was getting ready to work on. (Wouldn't this be  perfect to use for a mermaid doll ………..can't you just see it as the mermaid tail???)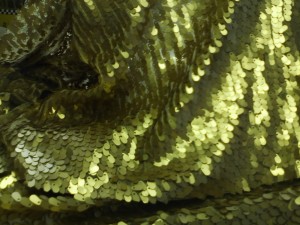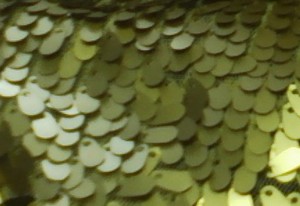 It is beautiful fabric but heavy and layered with sequins so I changed sewing machines from the one I was using to my old singer.
This little singer is a mid range machine (not the normal domestic and yet not a full professional machine) and can go through just about anything.  It's old but it is a true work horse.
When placing the fabric right sides together it was  very slippery and moved around so I used 3 inch long pins and place them diagonally along the edge.  That always seems to help stabilize any fabric that is slippery.
It didn't take too long to get everything sewn together  so now it's all bagged and ready to go back to Antonio's tomorrow.
Thanks for taking time out of your busy day to follow my ramblings as I post about my work.  If you have any comments feel free to post them in the comment section below.  
AND…………….check back soon because there's more to come.
For now though………….it's time for some rest.
Sleep well everyone and sweet dreams.