Be sure to check out all 3 pages to view all the framed items  that are for sale.
Contact me if you are interested in purchasing or if you have any questions regarding an item.
NOTE:  Caring for HD plexiglass:  First gently blow dust off surface. DO NOT use glass cleaner or paper towels to clean. Only use warm water and very small amount of dish soap or a nonabrasive acrylic cleaner. Use a soft, lint-free microfiber cloth to gently wipe the surface down,  being careful to make contact only with the portion of the surface that already has cleaner on it. 
Page 1 original poems 11×14 matted to 8 x10
Page 2 original poems framed 8 x 10 matted to 5 x 7
Page 3 KJV bible verses  framed 8 x 10 matted to 5 x 7
_________________________________________________________________________________
Original poem 
11×14 pink frame – wall hanging 
white mat  to 8 x 10 with shatterproof HD plexiglass
pressed flowers 
$25.00 (shipping not included)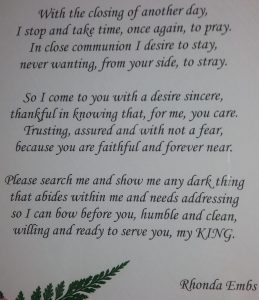 ________________________________________________________________________________
Original poem
11×14  blue frame – wall hanging or table top
white mat  to 8 x 10 with shatterproof HD plexiglass
pressed flowers 
$25.00 (shipping not included)
_________________________________________________________________________________
Original poem – Nightmare
11×14  black frame – wall hanging or table top
white mat  to 8 x 10 with shatterproof HD plexiglass
pressed flowers 
$25.00 (shipping not included)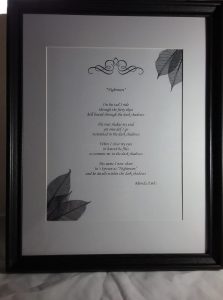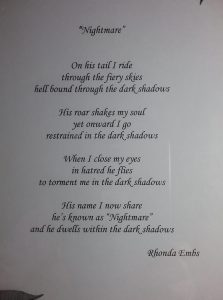 _________________________________________________________________________________
Original poem – A New Song Is Born
11×14  Pink frame – wall hanging
white mat  to 8 x 10 with shatterproof HD plexiglass
pressed flowers 
$25.00 (shipping not included)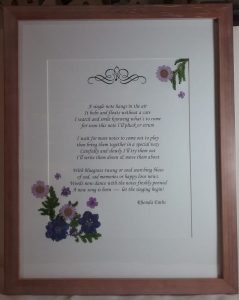 ________________________________________________________________________________
Original poem – Stained
11×14  Brown frame – table top or wall hanging
white mat  to 8 x 10 with shatterproof HD plexiglass
pressed flowers (this one sold-can assemble another one but flowers will look different)
$25.00 (shipping not included)
_________________________________________________________________________________
Original poem
11×14  Blue frame – table top or wall hanging
white mat to 8 x 10 with shatterproof HD plexiglass
pressed flowers 
$25.00 (shipping not included)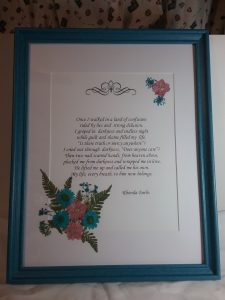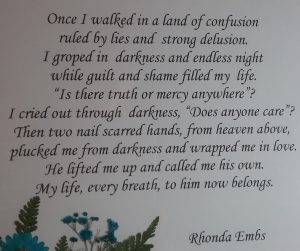 _________________________________________________________________________________
Original poem "Ukulele"
11×14  brown frame – table top or wall hanging
white mat  to 8 x 10 with shatterproof HD plexiglass
pressed flowers 
$25.00 (shipping not included)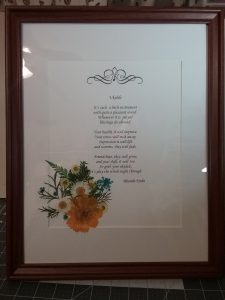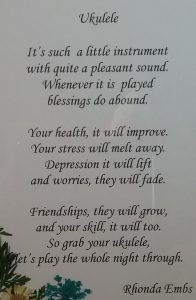 _________________________________________________________________________________
Wall hanging of original poem "Morning Comes A New Day Fair"
11×14 pale pink frame– for wall display
white mat  to 8 x 10 with shatterproof HD plexiglass
pressed flowers 
$25.00 (shipping not included)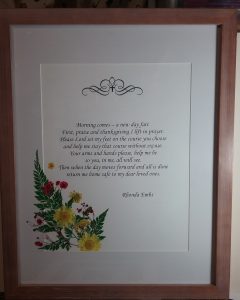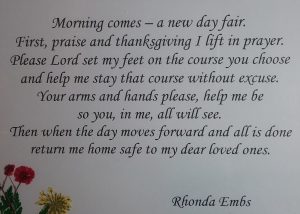 _________________________________________________________________________________
Wall hanging of original poem "In Darkness I SIng"
11×14 Black frame – table top or wall hanging
 off white matted  to 8 x 10 with HD plexiglass
pressed flowers 
$25.00 (shipping not included)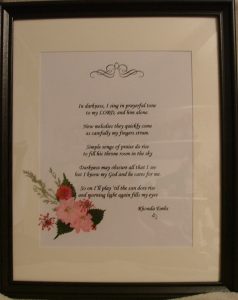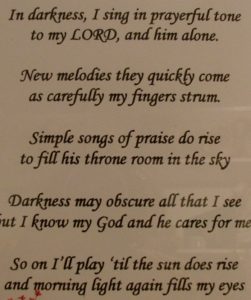 _________________________________________________________________________________
Wall hanging of original poem "Words Chords and Melodies Meet"
11×14 brown frame – table top or wall
 off white matted  to 8 x 10 with HD plexiglass
pressed flowers 
$25.00 (shipping not included)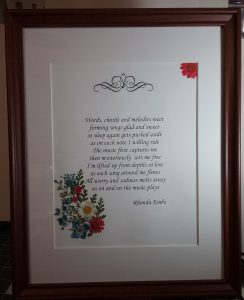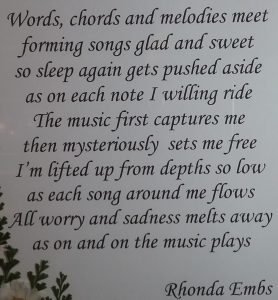 Page 1 original poems 11×14 matted to 8 x10
Page 2 original poems framed 8 x 10 matted to 5 x 7
Page 3 KJV bible verses  framed 8 x 10 matted to 5 x 7
______________________________________________________