I finished this quilt yesterday.  I am so glad I took the time to take it completely apart and start over instead of attempting to "fix" it.  I even decided to hand sew a silky binding on this one which I hadn't considered on the first one. It takes extra time but little ones seem to like the feel of it plus it looks nice.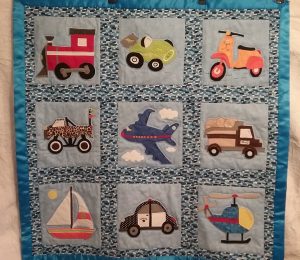 Today I'm working on items for donation and tomorrow I'll continue on Christmas orders and gifts. 
Now it's back to my sewing room where the hum of my machine enhances the music playing in the background.  Have a wonderful day everyone!