I've been "bizzy".
I have been running back and forth to the dentist, preparing for and teaching my regular sewing, quilting and paper art classes, plus  I am  assisting the international fashion designer, Antonio Corbie,  of Davant Designs (see Davant Designs page on facebook). There is a Mrs. Globe pageant soon (very soon-we are on a tight schedule)  and he has designed some spectacular gowns that will be worn by some of the beautiful contestants.   The designs are all breathtaking and I get paid to help assemble them. I still can't believe it and……I bet you're jealous——–        🙂
Here are a few pictures of just some of the "work in progress" that I am doing for him.
(I sat this dress on my desk and didn't notice until after I took this picture the little face peeking out.)
Peek a boo!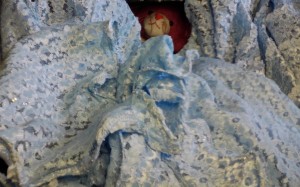 I put in the zipper  and did the lettuce ruffle hem on this gown.  You can't tell by the picture but this fabric is soooooo pretty and feminine.  It even has a delicate blue ribbon running through the fabric. If I'm able to get a picture of the finished gown maybe you'll be able to see the  fabric better……….(the pictures I take never do justice to the gowns though).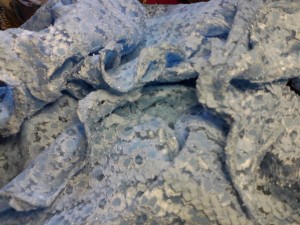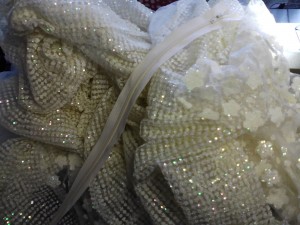 Another zipper and lettuce ruffle needed on this gown.
Here I'm working on the lettuce ruffle.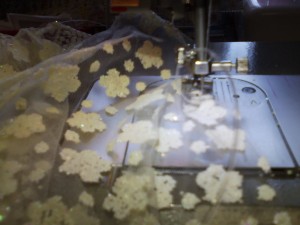 The lettuce ruffle is made by enclosing fishing line into the rolled hem.   Depending on the fabric it can be quick and easy or very slow and tedious.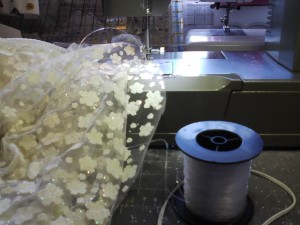 This was slow because the "design" on the fabric kept getting stuck in the presser foot so I'd have to stop and un-stick it over and over.  The fabric is gorgeous and the gown will be stunning but whatever was used to make the  design on the fabric  made a mess.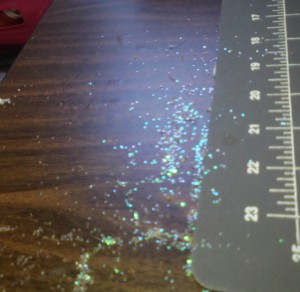 These little sparklies were everywhere!!!!!!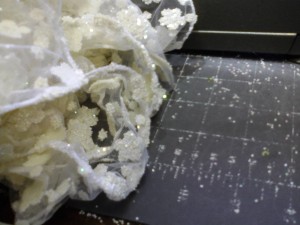 Everywhere including down inside my sewing machine.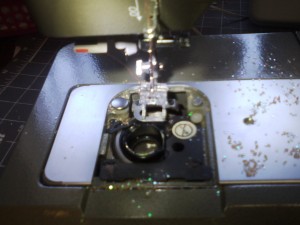 After I was done with the sewing on this fabric I had to take my machine completely apart and vacuum it out and clean it thoroughly.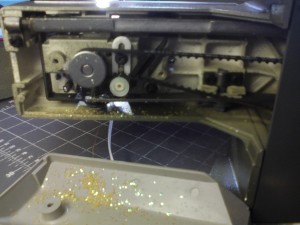 Somehow in the process I lost  a part.  It was not possible for it to  fit  through the vacuum hose attachment piece that I was using but I checked the hose and bag TWICE anyway. I also checked the trash, moved everything, checked the fabric thinking it
might have gotten stuck in it somehow and
I even removed the bottom plate again thinking, maybe, I put it on with the missing part inside…. but no luck.
I finally gave up so the machine is VERY clean but, for now, is totally unusable.  🙁
….I am grateful – VERY grateful that  I have more than one machine……otherwise I would have been unable to finish the work I brought home to do.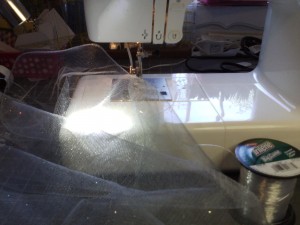 The last thing for Antonio that I had  to work on for today were panel inserts for a different gown. They needed  the sides hemmed and lettuce ruffles on the bottom.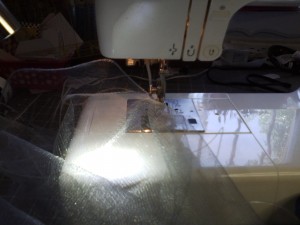 This should have been an easy job BUT I was using silver metallic thread and my machine HATED it almost as much as I did.  It kept knotting, breaking, and generally making a mess of the hem and fabric.  What should have taken 1 hour took 3.  grrrrrrrrrrr-not nice.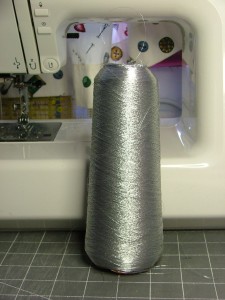 <——-this is a picture of the EVIL STUFF
(booooooooooooo hissssssss)
But perseverance paid off and I finally got it finished.  Here are pictures showing some of the ruffled hems.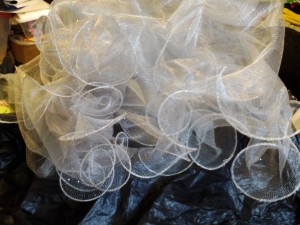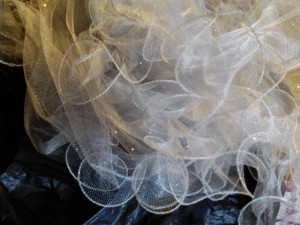 Well, it's time to prepare for my other job. I have class project preparations to do.
Thanks so much for stopping by. Until next time…………Rhonda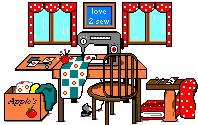 To see some gowns I've worked on click here………..>GOWNS

UPDATE:
I found the missing part.  HAPPY HAPPY HAPPY -my machine is allllll better now!