My vision is blurry today so I didn't want to work on anything important but I wanted to sew something.  I ended up making 3 little pot holders for myself. I've  actually needed  them for a while  but I always put off making things for myself because I feel like I should be working on samples, orders or items to sell.  Once these are complete I'll have 4 since I made one a short while ago as a sample for the sewing class I teach. Four is more than enough. 
The colors aren't great because, since they were for me,  I didn't stress over matching anything instead I just used the  scraps that were the closest to me in my sewing room.  All I have left to do is to hand sew the bias tape to the back. They're small so that won't take very long but I'm going  to wait on doing that until another day. Right now I need to put a warm compress on my eye and let it rest.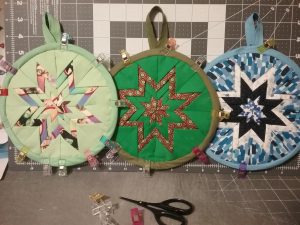 Have a great night everyone.  Sleep well, sweet dreams and until next time……..