I'm not feeling 100% so I only sewed a little today then I took it easy. I did something I haven't done in a while. I pulled out one of my art journals and simply doodled. The repetitious movements on the paper, the colors and even the sound that the pencil makes while gliding across the paper is calming to me. I enjoy it a lot but for some reason rarely take the time anymore so the time taken today was extra special.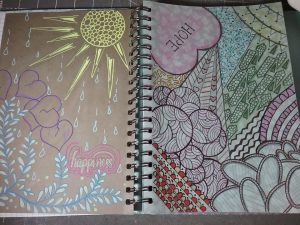 I doubt if  many of you know who Gene Watson is (unless you're into traditional country music) but tonight he got inducted into the Grand Ole Opry. I've listened to him for years and believe that it's long over due. "Congratulations Gene"
While I doodled I was able to listen to it on internet radio. While I was waiting for it to take place I got to enjoy lots of music live from the Opry. Very enjoyable.
All in all, a relaxing and simple day………………much needed and a great blessing.