At times  much of what I have on my "to do" list gets moved to the next day for completion and  today was one of those days.  I was able to frame and  finish  the blocks for the small quilt I'm working on and completed one outfit for one of the little ladies that came to live with me.  She had been  gently  loved and needed some attention so I cleaned her up, fixed her hair and dressed her in her new outfit with matching hair bow.  
The other dolly got the same attention regarding cleanup and hair care.  I didn't get a dress made for her today but last night I did crochet a very simple dress so she wouldn't be naked. I'll fancy it up later but it works fine for now.  Since I will be sewing many more outfits for them both to be used as class samples they will have lots of new outfits to choose from very  soon anyway.
Before and after pictures: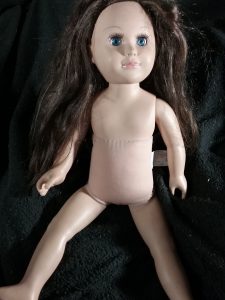 ______________________________
______________________________
 Now a personal message to Mommy Kenzie and Mommy Maddy from their dollys,
To our Mommys,
Thank you for all the love and attention you gave us while we lived with you.  You are good mommys.   Though we will miss you we are adjusting and are already happy in our new home. Auntie Rhonda is treating us really well and we can tell she loves us a lot.  Thank you for letting us come live with her.
Big hugs and kisses to you both….
To  Nana,
Thank you for arranging our move. The trip to Vegas could have been long and scary but because you packed us up securely  together it turned out to be a very fun adventure. Thank you for seeing that we got safely to our new home.  You're a good Nana. 
Love, 
The dollys