Hello everyone. 
I am still having issues with my eye. Because of the location of the bump and the fact that it's not acting like any stye I've ever had I'm going to see an optometrist on Friday just to be on the safe side.  
Today I completed 4 small projects.  I didn't work on my quilt because my eye is tired and feels strained but I plan on getting back to it tomorrow.  
Here are pictures of the 4 items I did get completed.
2 zippered pouches. The one in the front  has square box corners creating a  flat bottom.   The other is just sewn straight across the bottom like an envelope. Both are lined.   They are samples for the sewing class.  
The other 2 projects are  Wizard of Oz wallets/clutches  with snap closures.  I used scraps and really like the way they turned out. But, anything  Wizard of Oz I always like.
Picture showing front of each.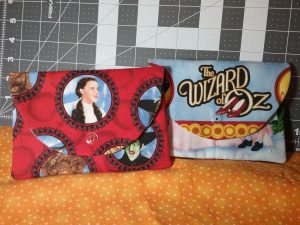 The inside has 3 slots or pockets.  The top one goes all the way across. The one underneath is sewn down the center to create 2 additional separate slots. I was able to match the fabric up on the one thats on the right so it looks like one solid piece of fabric but there are 3 separate pockets on it also.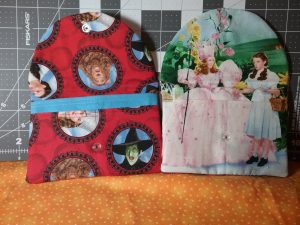 These pictures show the back of eack one.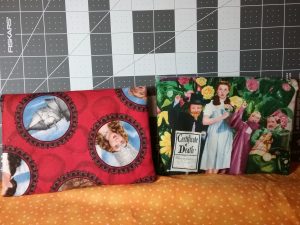 The only thing I'd do different is I'd add a short little handle to  place around your wrist or just to simply hang onto.   I always have a purse with me but I know many don't.  Some of you travel light taking just your license and maybe a debit card.  Having a handle to place around your wrist would make them very convenient  for you to carry.  Next time for sure.  I know I'll be making more.  
Until next time everyone……….